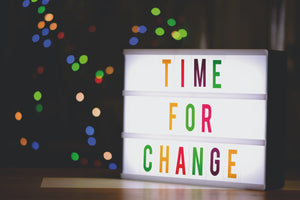 9 Small Changes that Can Help You Make 2021 Your Best Year Yet
Contrary to common belief, building a big, life-changing habit requires just creating a few new small habits. Even research proves that these little steps can lead to big changes given that we consistently work on keeping those habits.
Here are 9 small habits that don't seem much, but when practiced regularly,
can make a positive change in your overall life in big ways.
1. Drink a glass of water first thing in the morning.
Rehydrating first thing in the morning with what is deemed as "the gold standard
fluid for the body," can benefit your body in a number of ways. From your gut health, to your brain and immune system, there's just so many reasons to build a routine around hydration in the morning.
2. Stand up and stretch every hour
We were told how important stretching is in increasing flexibility and mobility
during exercise. But did you know, more than its importance in fitness, there's a whole lot more you can benefit from a good stretch including relief from stress and body aches. No matter how busy your day is, make it a habit to pause every once in a while,stand up, stretch, and..
3. Move more
We don't mean to scare anyone but a 2017 study found a direct connection
between a sedentary lifestyle and higher risks of early death. What's worse, hitting the gym for an hour doesn't negate the damage of a prolonged sedentary time. So no matter the high intensity workout, if we sit on the desk for 8 hours straight on a daily basis, we're still at risk.
Find ways to move more; do chores, play actively with pets, choose toys for your
kids that encourage physical activity, walk indoors, incorporate movement into your morning routine.
Live your best life by moving more.
4. Make healthy switches in your diet
Little exchanges you may want to make that promise better health includes ditching the whites: white flour, white sugar, white rice, salt. The truth is white flour, white rice, and other processed carbohydrates have been stripped of all their nutritional value. They are highly processed, and bleached in order to attain its color and laden with toxic ingredients that are harmful to our bodies.
If being healthy is one of your goals this year, toss the whites!
5. Add Omega-3 in your diet
The sad truth is, even such healthy lifestyle is not enough to counteract poor environmental conditions that we're currently living in. Why it's important to upend our diet with supplements that will help us stay healthy, and with that said, Omega-3 fatty acids is one we should consider. It can provide various benefits for your body such as fighting inflammation and heart disease.
These fats have also been shown to help prevent stroke, control lupus, eczema, and rheumatoid arthritis, and may play protective roles in cancer and other conditions. But of course we need to carefully select ones that are processed well such as Atlantic Delights Omega 3.
6. Take care of your gut; take pre and probiotics
From your mood, to memory, and immunity, your gut affects your body in more ways than you can think of. For this reason, we have to make sure we keep our gut healthy through and through! One convenient way to do that is by taking probiotics.
It helps in building and maintaining a healthy microbiome which is essential in keeping your gut healthy thus helping in fighting off sickness and digestive issues. For a balanced prebiotic + probiotic supplement that will surely reach your gut, you can count on Health Aid Bifina.
7. Sit in silence for a few minutes every day.
Cut down screen time, stay unplugged, set aside at least an hour to stay in the present moment, taking it all in. No need to be zen-like, just sit in silence, and breathe for a few minutes.
8. Self-care
Spending time doing things that make us happy and healthy is important for our
physical, mental and emotional well-being. Read a book, sleep well, eat right, exercise, take your supplements; self-care should be a non-negotiable no matter how crazy life gets.
For supplements that can do wonders for your health, check out the Mega-Trio from Vpharma Health and Wellness.
9. Always end your day with gratitude
It's backed by research: Grateful people may have healthier hearts, better sleep, and fewer aches and pains. Years and years of research tells us gratitude's power in improving people's lives; be it relationship with people, physical health, it's a key in enriching the over-all quality of life.
Speaking of gratitude, here's our little way of thanking you for reading the rest of this blog. Use the code NEWYEARNEWYOU upon checkout to avail 10% discount.
Happy and healthy 2021, family!
VPharma
---