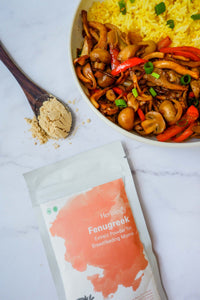 Fenugreek and Curry Mushrooms with Turmeric Rice
Fresh spices like ginger and turmeric along with Fenugreek make this Curry Mushroom a flavorful, vegan, comfort dish with warming Indian flavors.
If you haven't officially added Turmeric to your kitchen standards yet, you are missing out. Its flavor is amazing. Not only does it add an extra kick to whatever recipe you are making, but the nutritional profile attached to its name is hard to beat.
For this recipe, we also incorporated Fenugreek, an herb widely used in Indian cuisines. It complements curries and stir fry recipes and highlights the earthiness and the tangy nature of the sauce.
Along with Turmeric, this recipe makes a very restorative dish with a degree of warmth and comfort.
Fenugreek and Curry Mushrooms with Turmeric Rice

Serves 2
Fenugreek Mushrooms
• 300g mushrooms of choice (we used a mix of oyster and button
mushrooms)
• 1⁄2 red onion, sliced
• 1 clove garlic, minced
• Oil, for cooking
• Spring onions, for garnishing
Sauce
• 1 tbsp soy sauce
• 2 tsp sugar
• 1⁄2 tbsp. curry powder
• Dash of pepper

1. Mix sauce ingredients in a bowl. Set aside.
2. Heat a pan with oil. Once hot, add in the red onion. Sauté until tender
than add the garlic.
3. Add in the mushrooms. Pour in the sauce. Sauté for 3-4 minutes over
medium heat until the mushrooms have absorbed the sauce.
Turmeric Rice
• 1⁄2 cup uncooked white rice
• 1⁄2 cup + 1 tbsp water
• 1.5 tsp @herbilogyph turmeric powder
• 1⁄4 tsp salt

Method
1. Rinse the rice in some water. Place the rice and water in a rice cooker.
Mix in the turmeric and salt, then leave to cook.
Serve warm and enjoy!
---