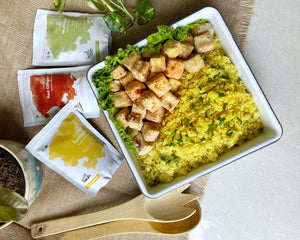 Immune Boosting Herbilogy Recipe: Tofu + Curried Rice
By Joy Felizardo, a food, travel, and parenting blogger behind the blog Gastronomy by Joy
Want to go on a meat-free diet but can't turn away from chicken, pork, or beef?
We have a four letter food solution for you: TOFU!
Tofu, when seasoned properly and marinated overnight can have the taste of savory and crunchy chicken nugget.  More than that, you can easily transform it to a healthier dish by marinating with Herbilogy Moringa and Red Ginger powder.
 This was inspired from  a recipe that uses lemon, but calamansi works as good.
The curried rice is the perfect carb companion for this protein-rich dish. Inspired from an Indian rice recipe that uses Basmati but done like the Filipino Sinangag but rich in that Indian-inspired flavor.  Together with curry, cumin and other Indian spices you might have, the flavor was enhanced with Herbilogy powders, Turmeric and Red Ginger.
 This recipe can also boost the immune system with the help of the Herbilogy powders in the recipe.
What food can be more doused with anti-Covid 19 supplements than these duo of a meal?
Calamansi Fried Tofu
 Marinade Ingredients
1/4 cup of freshly squeezed calamansi juice
1/2 teaspoon of dried Herbilogy Moringga powder
1 teaspoon of sea salt
1/4 teaspoon of ground black pepper
1/4 teaspoon of garlic powder or 1 garlic clove, minced
1/4 teaspoon of dried marjoram
1/2 teaspoon of ground Herbilogy Red Ginger powder
200 grams (7 ounces) of tofu or cut into 1inch cube or smaller 
Procedures for marinating:
Combine all ingredients except the tofu

 

into a bowl large enough to hold all the tofu chunks. Whisk until totally mixed.

Add the tofu cubes.

Stir it gently, cover with a lid or saran wrap and refrigerate for 24 hours.
Ingredients for frying the Tofu 
 1/2 cup of cornstarch
1 teaspoon of finely ground sea salt
Sunflower oil or any vegetable oil
Instructions for frying the Lemon Fried Tofu Chicken:
Whisk cornstarch and sea salt together until mixed thoroughly.
Remove the marinating tofu from the fridge. Dip each tofu chunk into the dry mixture and roll it around until all sides are covered with cornstarch. Do this until all the chunks have been dipped into the dry mixture.
Fry the tofu in small batches using a small to medium sized pot on the stove. Pour enough sunflower oil in the pot to allow a few tofu chunks to be submerged and float when ready. Place pot on stove over medium-high heat. 
Once oil is hot enough, fry each tofu nugget for 30 seconds or until it had turn into a nice golden color. 
Line a plate with some paper towels. Remove each nugget from the hot oil when ready and place on this plate so the paper towels can absorb the excess oil.  
Curried Rice
 Ingredients
4 cups Cooked Rice
4 Tbsp rice bran oil
1 medium onion, chopped
4 cloves garlic, chopped
3 Tbsp Herbilogy Turmeric Powder
3 Tbsp Herbilogy Red Ginger Powder
2 Tbsp Curry powder
Scallion, chopped
Salt and pepper to taste
Procedure
Saute onion in a medium-sized pot until translucent then add garlic and spices. 
Add the rice and a pinch of salt and stir to coat in the spices. 
Season the rice, add the chopped scallions and then fluff the rice with a fork and serve, topped with the Fried Tofu.
Serve while they are still hot and enjoy!
Like this recipe? Don't forget to share!
---