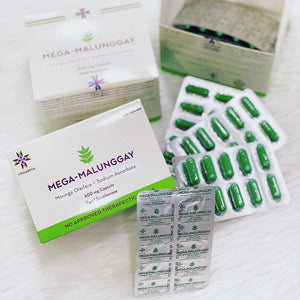 MegaMalunggay: From Milk Supply to Immunity - Why It's Good For Everybody
True enough "Malunggay" is almost always associated with breastfeeding. Ask a mom who just gave birth, she would definitely confide how her meals have become anything Malunggay.
Well as health advocates rooting for this superfood, we are happy to report that research claims its effectiveness in stimulating breastmilk for an increased  supply.
But aside from that, did you know that more than just a galactagogue, this breastfeeding holy grail contains calcium, magnesium, protein, potassium, chlorophyl, polyphenol, vitamins C, A, B and B2, plus amino acids?
It's not called a superfood for no reason!
Just when I thought only breastfeeding moms benefit from malunggay, I was blown away when I learned from Vpharma, a Health and Wellness company, about how anybody can benefit from it.
I won't deny, I was one to celebrate when Vpharma introduced Mega-Malunggay to the market.
 There are existing malunggay capsules you can buy but Vpharma's Mega-Malunggay contains 500mg of Moringa Oleifera + 100mg of non-acidic vitamin C, which gives you more Vitamin C than oranges, 3x the amount of  iron in spinach, and 4x the calcium amount in milk.
So you don't only boost your milk supply but you also get to strengthen your immune system.
Perfect for moms who just gave birth right? Yes it is!
But aside from that, let's not downplay the other uses of Mega Malunggay capsules such as:
- building a strong immune system
- boosting energy
- maintaining healthy skin due to collagen-building nutrients from Vitamin C.
- providing calcium to the bones
- rich source of Vitamin A, B2, C, Iron and Magnesium
Imagine what  a capsule can do to your body! Perfect for every family member right? Especially these days when health crisis arises and there's nothing much we can do to protect ourselves and our family other than maintain a strong immune system.
So go on and load up on Mega-Malunggay. You can  have it in your soup, mix it in a cup of tea, make a smoothie with it, take as much as you can;
When it comes to #HealthForEveryFamily there are no compromises. Thankfully, there's Vpharma Health and Wellness.
---
3 comments