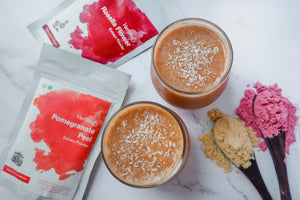 Pink Pomegranate and Rosella Smoothie
Sip your way to a healthier breakfast with this Super Smoothie recipe!
With nutrient-rich fruits plus antioxidant packed Rosella and Pomegranate Extract powders, this blend will give you an energy boost that will keep you going until lunch.
Get ready to shake!
Super Smoothie 
Makes 1 glass
2 frozen bananas
1/2 cup frozen pineapple or mango chunks
2 1/2 tbsp @herbilogyph rosella powder
1 tbsp @herbilogyph pomegranate peel powder
1 cup water, or more depending on desired consistency
Desiccated coconut, for topping
Blend everything until smooth and serve immediately.
Enjoy!
---