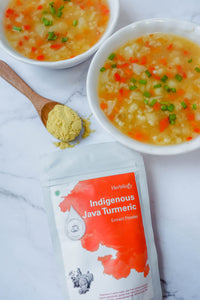 Turmeric and Vegetable Soup
The aromatic flavours of Turmeric transform this simple vegetable soup into a delicious warming soup with superb health benefits.
Just a bit of information...
Turmeric is a golden root used for over 5000 years in Ayurvedic Medicine and is believed to have medicinal properties. It is a rich source of curcumin - a powerful bioactive compound that help heal, soothe and protect the body. 
Its popularity led it to culinary scenes, making it available even on the Western part of the globe. 
Ingredients
5 cups water
3 tsp Herbilogy Indigenous Java Turmeric
1 1/2 tsp salt, or to taste
1 (70g) small carrot, diced
1/2 red bell pepper (60g), diced
1/4 cup dry split peas or lentils
1 small potato (100g), diced
1/4 cup dry risoni pasta or other pasta of choice 1/2 head cauliflower (120g), roughly chopped
Procedure
1.Heat a pot with water. Once it boils, add in the carrots, split peas, and bell pepper. Add the salt and turmeric.
2.Once the potatoes, carrots, and peas are half-cooked, add in the pasta, cauliflower, and potato. Leave to cook for 25-30 minutes.
3.Season with more salt to taste, if needed. Enjoy while hot!
This easy quick meal is healthy, delicious and made with simplest ingredients.  Soothing and comforting, it nurtures and heals.
Try this recipe this week and see how you feel!
---