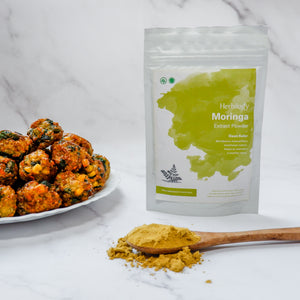 Veggie Balls with Herbilogy Moringa Extract Powder
Once in a while, it's good to take a break from eating meat and venture into the world of plant-based dishes for a varied assortment of nutrients.
If you're new to this diet scheme, this veggie balls is a good start. This tasty and easy recipe will not disappoint and we can guarantee that even meat-lovers will love it just as much.
Nutritious, satisfying, and delectable; here's how to make them:
INGREDIENTS: 
(Makes 25-30 balls)
1 head raw cauliflower (makes 300g florets)
1/2 carrot (60g)
1/2 cup cooked corn kernels
3/4 cup all-purpose flour + 1/2 cup soy or other non-dairy milk
1/2 tbsp @herbilogyph malunggay powder
1 tsp salt, or to taste
1 cup fresh malunggay or spinach leaves, chopped
Ketchup or other dipping sauce of choice
PROCEDURE:
Mix the all purpose flour and non-dairy milk in a bowl. Set aside.

Process or mince the cauliflower. Finely process or mince the carrots as well.

Add the cauliflower and carrots in a bowl. Mix in the corn and flour and milk mixture. Add in the malunggay powder, salt, and fresh spinach or malunggay. Mix everything until all incorporated.

Season with more sat if needed.

Shape into balls or your desired shape.

Heat frying pan with oil. Once hot, fry the balls until golden brown on each side. Drain excess oil and enjoy while hot with your favourite dipping sauce!
Baking option: Heat oven to 350F. Place balls on a lined baking tray. Drizzle some oil. Bake for 45-50 minutes until brown and crisp. Flip halfway through cooking. 
You can snack on these veggie balls, or have them for lunch or dinner with a salad, pasta, or rice. The amount of nutrients found in this dish makes it a great addition to your child's diet.
Go ahead and try!
---